Escrito por RobertMS
Jueves, 20 de Mayo de 2010 17:42
Ahora podras hacer duelo y tener un premio por tu victoria este duelo se realiza en el Mapa Vulcanus.

Estructura del Mapa

1. Vulcanus
Se divide en Zona de batalla y Zona de Seguridad.
En la Zona de batalla Solo podraa ingresar si perteneces a una familia Gens.
No es Nesecario Pulsar Ctrl para poder atacar los miembros de la otra familia gens, estos seran reconocidos como enemigos y al matarlos ganar puntos en la contribución.

2. Duelo
Al Hacer Duelo seras llevado automaticamente al colosseum de Vulcanus..
Después de terminar el duelo seras transportado hacia Lorencia Zona Segura para el ganador del Duelo, se le dara un Aura "Gladiator to glory".
Solo podras ingresar a Vulcanus si perteneces a una familia Gens.

Moverte
Para poder ingresar tienes que pertenecer a una familia Gens.
El Level minimo para moverte es de 30 (Magic, Dark Lord es Level 20) Se te descontara 10.000 de Zen.
Si usas la Ventana de Comandos y haces click en Vulcanus el traslado sera de 15.000 de Zen.
No es posible pasar a pie hacia la Zona de Duelo.
Descripción general del sistema
El duelo entre los personajes sera asi en el futuro.
Al Momento de Hacer el Duelo seras transportado hacia Colosseum de Vulcanus.
Al Terminar seras transportado hacia la Zona Segura de Lorencia.
El sistema cuenta con un Reloj que indentifica al Ganador del Duelo y se le dara elementos avanzados de Vulcanus para hacerse con el control del mapa.

Contenido añadido
Se a añadido al Menu de Duelo una Nueva Opcion (Alt + Click Derecho).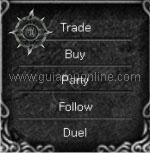 Al Ganador de cada duelo se le otorgara un Aura "Gladiator to glory"
Imagen

Gladiator to glory

20% de experiencia aumentado (con excepción de nivel maestro)
Gladiator to glory y el Seal de drop y experiencia no puede juntarse
Solo dentro del Mapa Vulcanus podras tener estos beneficios


Solo sera posible hacer 4 duelos simultaneos por cada servidor.
En Vulcanus en la zona de seguridad Hay un NPC "Doorkeeper Titus" (coordenadas 122, 135) Habla con el para poder ser espectador de algun duelo que se este realizando un maximo de 10 personas pueden ver un Duelo.


Interface del Espectador

Última actualización el Miércoles, 08 de Agosto de 2012 01:14