Escrito por RobertMS
Lunes, 31 de Mayo de 2010 20:13
Descripción General del Item
El Guild Master o el Asistente Guild Master, pueden utilizar la Life Stone, funciona como un punto del Re-Aparicion para el Guild, cuando el carácter del guild muere aparecerá donde arrojo la Life Stone y no en el exterior del castillo.

Items Necesarios para Crear
Jewel of Bless

Jewel of Soul

Jewel of Chaos

Jewel of Guardian

Zen

Life Stone

100% de Porcentaje de Éxito
NOTA:
La Tapa solamente puede ser utilizada por el Guild invasor.
Hay un segundo contador de tiempo para colocar la Life Stone.
Debido a sus energías especiales, restaurará HP/MANA/AG a los caracteres del equipo invasor durante cierto tiempo.
Las Life Stone pueden ser destruidas cuando son atacadas por los equipos atacantes y Defensores.

Pasos a Seguir
1.Ir al Chaos Machine ubicado en Noria y hacer click en Regular Combination.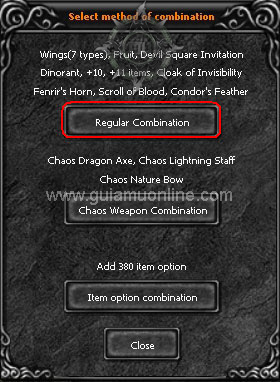 2.Insertar 5 Jewel of Bless, 5 Jewel of Soul, 1 Jewel of Guardian y 1 Jewel of Chaos hacer click en Combining.



3.Aceptar o Cancelar el Proceso de creación del Dinorant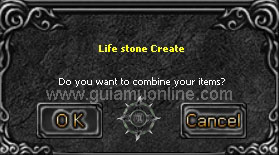 4.Proceso de Creación Finalizado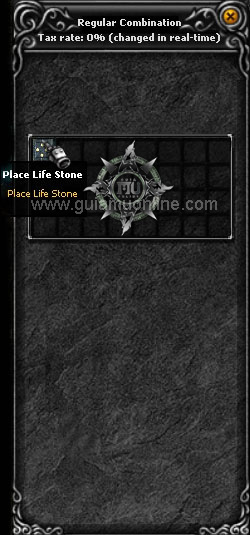 Video Ilustrativo
Última actualización el Viernes, 27 de Septiembre de 2013 01:45